Loft Conversion Ideas – 8 Ways to Transform Your Attic
April 16, 2021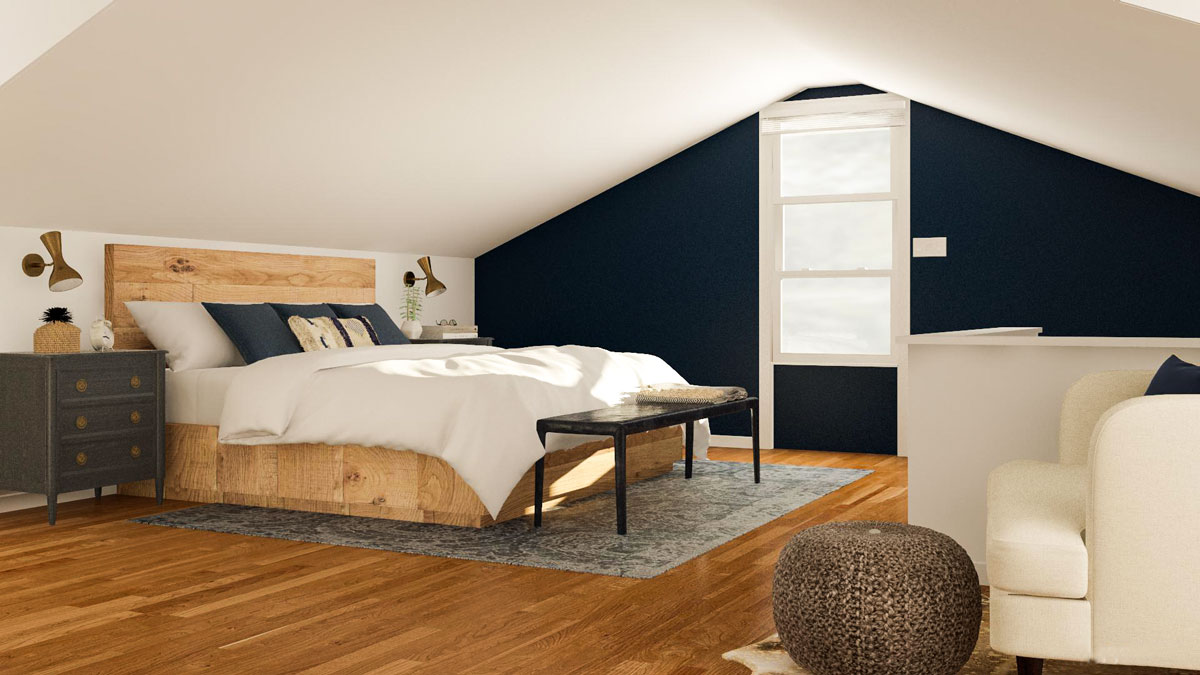 A loft conversion is a clever way to transform your attic into practical space. Let these loft conversion ideas be inspiration to your design.
If you want, or need to introduce extra living space into your home, then a loft conversion could be the answer. Because a well-designed attic room will not only create extra habitable space to help free up a busy household; but whether you want to add an extra lounge, bathroom, guest bedroom or even open plan kitchen to your home, it's a really clever alternative to an extension that could even up your property's value…
We've gathered a sound variety of loft conversion ideas below, along with design considerations to help get your project underway. But, before you begin any work on the interior design, it's vital to understand your needs; the room's configuration and more, so keep scrolling to see how a simple loft extension can truly transform your property, and for advice on loft conversion costs be sure to check out our ultimate guide.
Create a guest bedroom out of a small loft conversion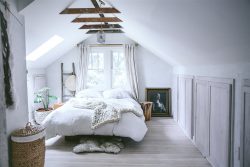 If you're browsing small loft conversion ideas – perhaps a small, child's bedroom, a home office, maybe even a kids' TV room or teen crash pad; first work out whether your small loft is even big enough to convert.
We love the simple design of this small loft room, and the light colour scheme brightens it up so that it feels more roomy than it actually measures out to be!
Incorporate a stylish bathroom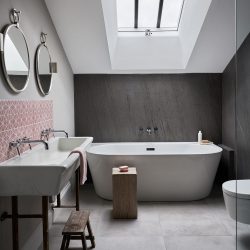 Awkward dimensions and bulky beams don't have to be a limiting factor in creating a bathroom in a loft space.  While showers require a minimum amount of headroom and easy access; a freestanding bath can be sited under a low ceiling. Simple shapes and a traditional colour palette work well with period architecture.
Create a home office
If an extra bedroom in the loft isn't what your family needs; but you work from home, a home office might be a good lost conversion idea for you. In order to maximise productivity, a home office requires plenty of natural light, so steer clear of black-out blinds and heavy materials.
Instead, opt for pale blinds in soothing neutral shades that still let the light in but will also reduce glare when they're closed, allowing you to work efficiently even when the sun starts to drop – as essential for dazzling summer days as for shorter days in the winter months.
If you're planning on transforming your loft conversion into a home office; you'll find our specialist guide to home office design a handy read.
Design a dressing room
This bespoke dressing room (the stuff of dreams, right?) makes clever use of the space in the eaves with built in storage; that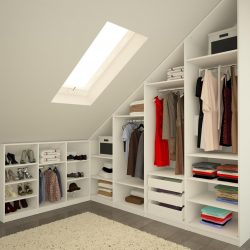 combats the limitations of an awkward sloping roof.
A large skylight floods the space with natural light, while floorboards are positioned to give the appearance of a longer space. We love the idea of tacking this walk-in wardrobe onto the side of a large master bedroom.
Incorporate a small living room in your bedroom space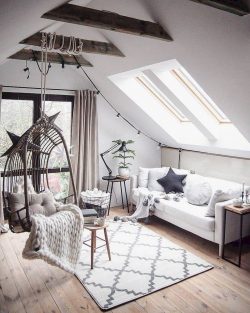 You'll often find there are lots of nooks and corners of loft bedrooms that can be tricky to know what to do with. We love the idea of a cosy reading area – all you need to create this look is a nice armchair; some loft lighting, throw down a thick rug and voilà, an instant space to hunker down with a lovely book.
Get the loft extension's stairs just right
The location of your loft conversion stairs should also be considered during the early stages. Consider all possible options in order to maximise the space offered within your loft conversion. Decisions such as placing the door at the top or the foot of the staircase; can also mean the difference between a boxy loft conversion and one that is more open.
Ideally, though, you want the loft conversion stairs to feel like a continuation of the stairs from your ground floor to first floor. To do this, match the designs as closely as possible – including bannisters, handrail and paint finishes.
Attempt to get the same carpeting or flooring, mouldings; such as skirting, wall coverings or finishes and even decor as down below. Doing so will help blend your loft into the rest of the house, making it feel like a natural addition that's always been there.
Find storage solutions design to fit awkward spaces in the attic
Making the most of a loft conversion often means embracing the awkward spaces that can accompany them. If it's possible, insert shelves or a desk into a difficult corner; or have cupboards custom-built to suit a slanted roof; as this is a great way to maximising space and provides a handy storage solution.
Think carefully about the exterior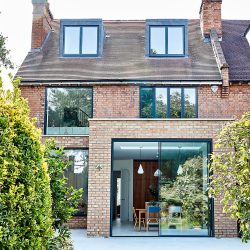 If your attic will include extended sections, consider whether you want the new exterior to contrast with or complement your existing property. You could choose matching brickwork; or include rendering or cladding for a more contemporary finish.
For modern homes, frameless and minimalist-style windows are a great option. However, if you have a period property and want an attic room or loft extension, there may be conservation requirements – such as requiring windows to sit flush with the roof – that reduce your options.
Call us at (732) 410-1306 or contact us on Facebook