Simple Tips for a Successful Bathroom Renovation
October 23, 2021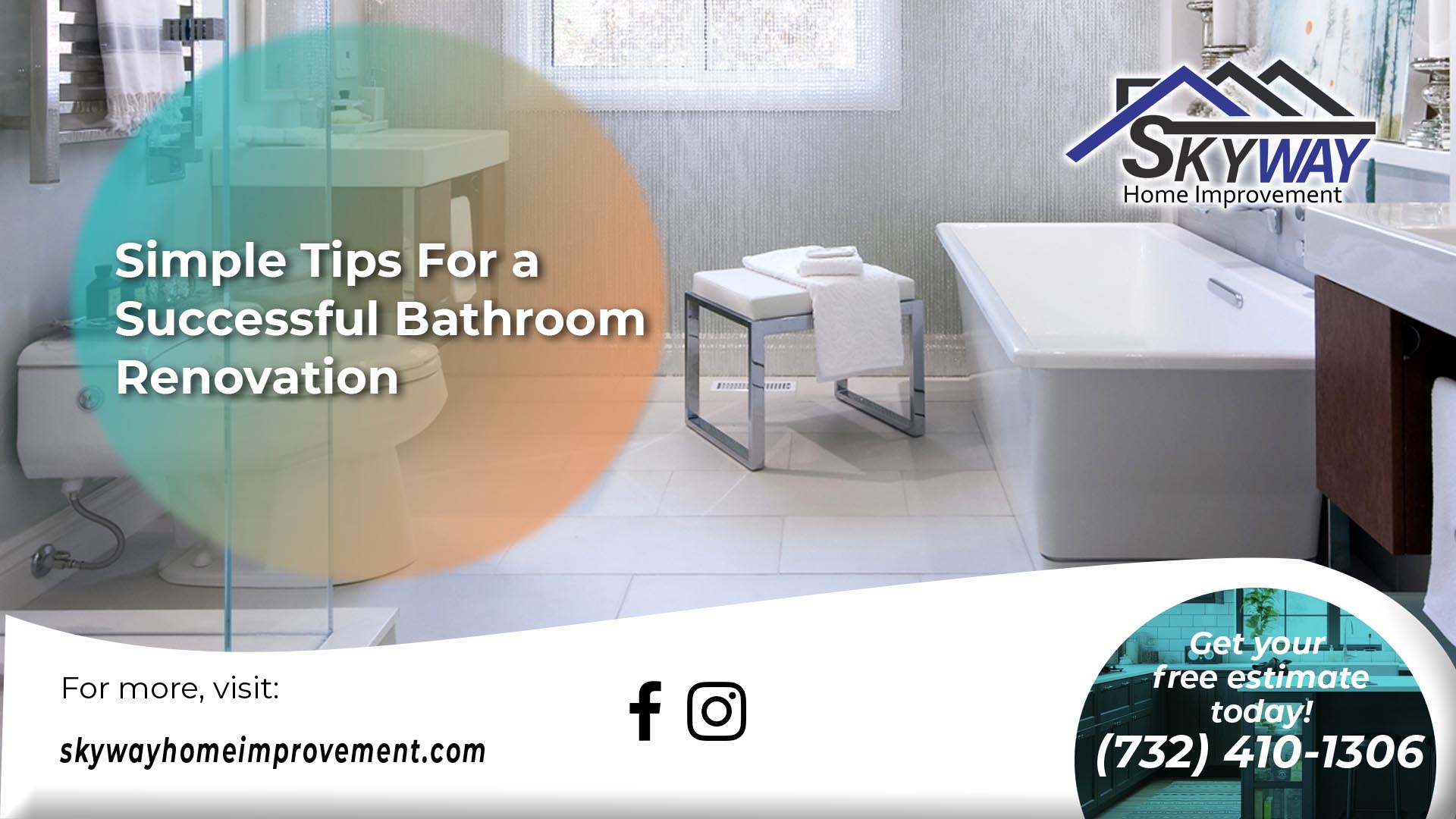 Bathrooms are small rooms where can result in big impact, big value, and oftentimes, big problems.
That's why it's important to thoroughly plan your bathroom renovation ahead of time and talk to a contractor about your options, limitations, and budget.
Unless you have vast experience with home renovations and plumbing; a bathroom renovation may not be the best project for the DIY homeowner to tackle but there are some tips that will help ensure success.
Any home renovation can be a bit of a headache and inconvenience but the bathroom may be the single largest inconvenience for a renovating homeowner, especially if your home has only one bathroom.
Even with more than one bathroom, the water may need to be shut off to the entire house, rendering a second or third bathroom barely functional anyway.
Time is of the essence when it comes to bathroom renovations which is one very important reason you might opt for professional help.
A professional contractor can help the process go more quickly, and plan each step of the project to be as accommodating to you as possible.
Before you begin your bathroom project, there are many things to decide. What finish do you want on the light and plumbing fixtures? What type of plumbing fixtures do you want? Do you want a single or double sink? And the list goes on and on.
Having a good idea of the overall design of your bathroom, as well as the finer details, will help ensure that your project meshes into a beautiful and functional finished project instead of a mishmash of expensive counters, cabinets, and fixtures that don't work for your space or your lifestyle.
One of the biggest problems that is often revealed during a bathroom renovation is the plumbing.
In some cases, even your contractor won't know what's behind the walls until they see it.
You certainly don't want to be on your own when a plumbing issue arises. Incompatibility, out-of-date and out-of-code pipes, leaks, and other issues are best handled by a professional. It will provide you with peace of mind and could even save you money in the long run.
Even though bathrooms are smaller rooms, there is a vast amount of work to accomplish during a renovation. If the bathroom is being expanded to include extra square footage or the addition of a tub or shower, the design is very important in order to maximize available space.
Even if the basic footprint of the bathroom remains the same, the replacement of a vanity, sink, tub or shower, flooring, walls and other fixtures can be daunting. An experienced contractor will help you sort out the best options.
During the planning stages of the project, decide which materials you prefer for floors, walls, and counters.
Be sure to take into consideration the maintenance and upkeep as well aesthetics. Also be sure to plan space for adequate storage of toiletries, towels, and other bathroom essentials. Keep in mind that the most successful bathroom renovations are those that were well thought out; and planned before construction actually started.
Bathroom fixtures, such as tub and shower styles, sinks, and cabinets, change frequently. Some designs are classic in nature but other reflect modern technology. To get the most bang for your buck, decide what type of fixtures suit your home; lifestyle and budget, and avoid designs that don't suit the rest of your home or may date your bathroom too quickly.
Trends come and go but a well-designed bathroom can last for years to come. Investing in water-saving features can also help make some of your money back over time.
Remember that a contractor with experience in bathroom renovations can be your best friend; choose one that not only has experience, but a solid reputation as well. Many remodeling projects are derailed by inexperience and lack of quality workmanship.
Since a bathroom renovation can be stressful, it's better to work with someone well equipped to get you through it.
In the end, careful consideration of the details and thorough planning, combined with the experience of a qualified contractor, will result in a successful bathroom renovation that adds value to your home now and in the future.
Skyway Home Improvement is a construction company located in New Jersey. We are fast and our goal is to provide a service that exceeds clients' expectation. Contact us on Facebook.