The Latest Trends in Home Construction
May 24, 2021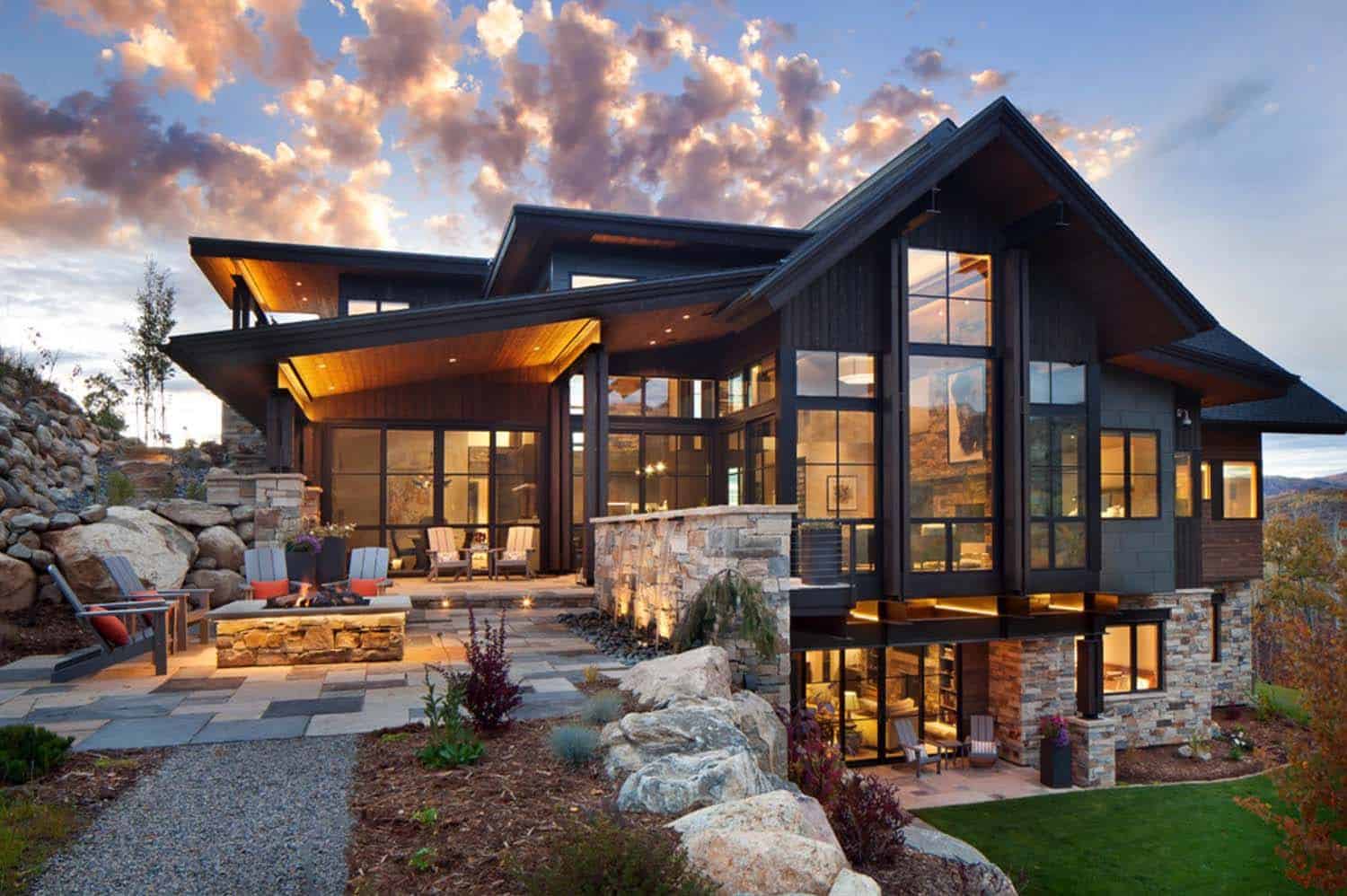 Fashion, music, houses – all of these are driven by trends. Particularly in home construction, amenities and features are always evolving.
Home construction has change since one year in pandemic, a welcoming front porch reminiscent of a cozy homestead is all the rage, and at another time, the buzz is about how passé formal dining rooms have become.
You've picked your lot, chosen your builder, and are mulling over cabinets, finishes and paint colors. And you've chosen your exterior finishes as well, perhaps swayed slightly the influence of some of the more popular television designers.
Although stucco and tabby are long-time Golden Isles favorites, they are not what is trending right now.
"I'm doing a lot of siding – both board and batten and lap siding," said Brett Flanagan, owner of Flanagan Development.
It goes without saying that there are a lot of details that go into making a house a home.
Outdoor Entertainment Space
In 2020, the National Institute of Home Builders found a priority for people building homes is the inclusion of a walk-in closet, particularly in the owner's suite. That particular feature is generally a given in the Golden Isles home construction market; but  Flanagan has his finger on the pulse of other local current home trends. Outdoor spaces are right at the top of the list.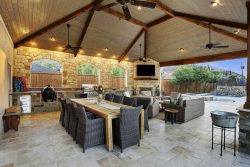 "Almost every home construction we make has a pool, pool house and outdoor living space," said Flanagan, explaining this corresponds with people staying at home. Outdoor kitchens, poolside pavilions and pools with with adjacent structures, such as pool houses, are overwhelmingly popular.
Many times those outdoor rooms include a screened-in porch.
"We construct a covered porch on almost every house, and now we screen in nearly all of them," he said. "When it's buggy and hot, it gives you the chance to get fresh air, but you don't have to deal with the elements."
Home Offices
Another must-have feature is the home office.
"A lot of people used to have their home offices in a bedroom or the corner of another room," Flanagan said. "Now, they want a dedicated room."
These home offices, in spaces out of the home's normal traffic flow, are playing a huge part in providing children a spot for virtual school and other lessons.
"It's a place for kids to go to school in the house," he said.
Shower for a King
Bathrooms are also where trends are changing. Gone are the spa-style tubs of the late 1990s and early 2000s. Freestanding tubs are replacing them; if tubs are installed at all. In many homes, customers are choosing showers only.
"Freestanding tubs look really sweet; but cost a little more," said Flanagan.
Showers are becoming even more grand. "Large showers, with at least two heads and (lots of) room, are what we are seeing," he said. Beyond spa-influenced showers, the next trend on the horizon are wet rooms.
Although they sound mysterious, a wet room is simply a bathroom in which everything is designed to thrive in a wet environment. It's an open concept which permits more functionality in the same amount of space as a conventional bathroom.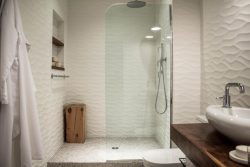 The secret to a successful wet room; which Flanagan said he's yet to build, is that all the floors and walls are properly sealed and adequate drainage is in place.
There are a few new developments in the kitchen department as well. People are showing preferences for splashes of color; especially on kitchen islands, where hues such as navy are showing up with some regularity.
"White cabinets are still popular, but people are more likely to do a pop of color or choose soft gray cabinets," he said; adding that people are gravitating more toward natural woods, like oak, that is stained rather than painted.
The NIHB survey also found people preferred stainless steel appliances, and granite and natural stone countertops; as opposed to those manufactured from quartz, engineered stone and laminate.
The Laundry
Perhaps the biggest change is in laundry rooms. No longer just a place to do the laundry and hide gift-wrapping supplies, laundry rooms have become a kitchen's best friend.
"They provide the space for ancillary small appliances," Flanagan said, adding that a large laundry room be designed to include the features of a butler's pantry; if a house doesn't have room for both. "We've seen laundry rooms with wet bars, wine coolers and extra full-size refrigerators."
When the functions of those two rooms are combined, another purpose is served – kitchen counter clutter is kept to a minimum.
In keeping with those clean, uncluttered lines, the open-floor concept is still very much thriving.
"That trend has not gone away," he said. "People love having their great room, dining room and living room in one space." Elevated ceilings, whether they are vaulted or raised flat ceilings, also opens up spaces, and give houses a luxurious feel.
Of course, people ooh and ahh over the special interior home construction touches that make a house a showstopper; but there are there are things that deserve equal consideration if a person wants to build a home that's not only easy live with, but easy to live in because of cost-saving features.
Although not as interesting as a freestanding tub or an outdoor kitchen; the NIHB said that people are investing in energy-efficient windows and lighting to bring it all together.